Palm Springs > Canyon Country Club Estados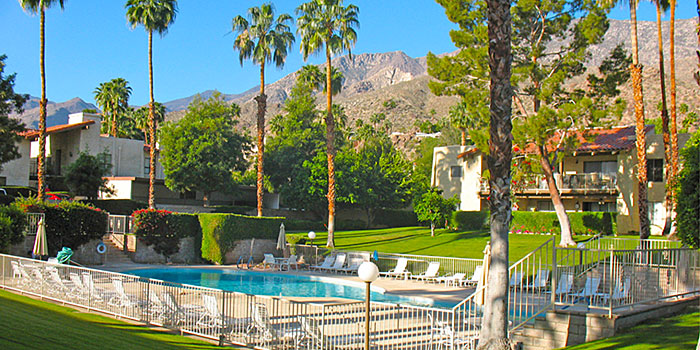 Overview
Units in Complex:
120
Land Type (?):
Lease
For Sale:
6 Ranging From
$92,000 to $179,500
For Lease:
0
Map It
Google Maps
Situated on eleven acres of beautiful South Palm Springs, the Canyon Country Club Estados boasts three swimming pools, four spas, two saunas, and six tennis courts! There are four available floor plans amongst these condos; a 1 bedroom and 1 bath 724 sq ft unit, two 2 bedrooms and 2 baths units that measure 1062 sq ft and 1134 sq ft respectively, and the largest 3 bedrooms and 2 baths 1289 sq ft unit. All homes come with a covered one car carport.
There are currently no available units at Canyon Country Club Estados. To be notified of new listings for this complex,
simply fill out this form
.
Address
List Date
List Price
List $ / Sq Ft
Beds / Baths
Sold Date
Days on Market
Sold Price
Sold $ / Sq Ft
2255 S CALLE PALO FIERRO #73
04/20/2017
$214,900
$164
3 / 2.0
09/26/2017
154
$214,900
$164
2160 S PALM CANYON DR #8
04/27/2017
$115,000
$101
2 / 2.0
08/11/2017
59
$115,000
$101
2170 S Palm Canyon DR
03/14/2016
$89,900
$61
2 / 2.00
06/29/2017
132
$70,200
$61
451 E VIA CARISMA #64
04/20/2017
$184,900
$141
3 / 2.0
06/05/2017
5
$180,000
$138
451 E VIA CARISMA #65
02/27/2017
$195,000
$149
3 / 2.0
05/10/2017
72
$175,000
$134
310 E San Jose Road #114
09/05/2016
$149,900
$122
2 / 2.00
05/10/2017
235
$142,500
$122
351 E VIA CARISMA #95
01/30/2017
$159,900
$137
2 / 2.0
04/19/2017
31
$152,500
$130
2170 S PALM CANYON DR #15
10/23/2016
$119,900
$102
2 / 2.0
01/17/2017
86
$117,900
$101
310 E San Jose Road #120
08/03/2016
$110,000
$96
2 / 2.00
12/27/2016
140
$112,000
$96
2255 S CALLE PALO FIERRO #73
02/08/2016
$185,000
$142
3 / 2.0
10/24/2016
252
$186,000
$142
Averages:
$152,440
$122
117
$146,600
$119