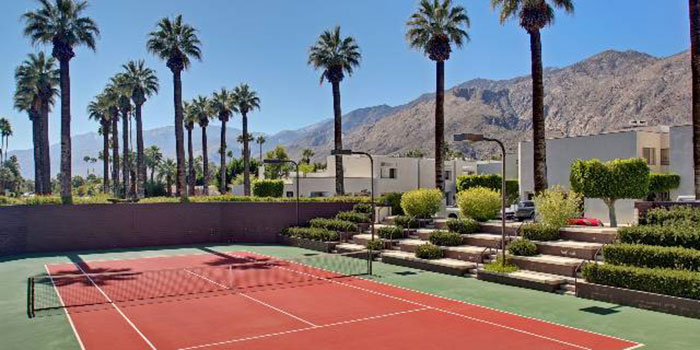 Overview
Units in Complex:
140
Land Type (?):
Lease
For Sale:
7 Ranging From
$175,000 to $313,500
For Lease:
0
Map It
Google Maps
The Village Racquet Club condos, located in central Palm Springs, are set on a 14 acre lot. The gated community offers 8 pools, 8 spas, 4 tennis courts, 2 racquetball courts, and a clubhouse. Each unit comes with a garage and/or a carport. The floor plans vary from 1400 sq ft to 1923 sq ft. Most units are on 4 levels with a few of the units as single levels.
Condos for sale at the Village Racquet Club – MLS listings updated hourly
Status:
Active Under Contract
Status:
Active Under Contract
There are currently no available units at Village Racquet Club. To be notified of new listings for this complex,
simply fill out this form
.
Address
List Date
List Price
List $ / Sq Ft
Beds / Baths
Sold Date
Days on Market
Sold Price
Sold $ / Sq Ft
480 VILLAGE SQ
06/26/2017
$349,500
$182
3 / 3.0
09/22/2017
77
$320,000
$166
842 Village Square
07/07/2017
$209,900
$121
2 / 2.00
09/19/2017
47
$203,000
$121
426 W VILLAGE SQ
04/17/2017
$219,000
$130
2 / 2.0
06/05/2017
9
$216,250
$129
943 VILLAGE Square South
11/11/2016
$249,900
$149
2 / 2.0
05/26/2017
135
$240,000
$143
459 E VILLAGE SQ
12/08/2016
$199,900
$143
2 / 2.0
05/01/2017
84
$199,900
$143
401 W VILLAGE SQ
02/14/2017
$279,900
$167
2 / 2.0
05/01/2017
71
$279,000
$166
950 VILLAGE SQ
10/18/2016
$279,000
$148
3 / 3.0
04/26/2017
190
$270,000
$144
869 Village Square North
10/12/2016
$317,777
$156
3 / 4.00
04/25/2017
195
$299,777
$156
432 W VILLAGE SQ
11/08/2016
$279,900
$149
3 / 3.0
03/31/2017
85
$260,000
$138
983 VILLAGE SQ
03/30/2016
$229,000
$122
3 / 3.0
10/28/2016
180
$220,000
$117
468 W VILLAGE SQ
08/31/2016
$219,000
$130
2 / 2.0
10/26/2016
56
$212,000
$126
836 VILLAGE SQ
03/31/2016
$229,000
$123
3 / 3.0
10/13/2016
196
$217,000
$117
836 Village
03/31/2016
$229,000
$117
3 / 3.00
10/13/2016
151
$217,000
$117
451 Village Square
07/19/2016
$299,500
$161
3 / 2.00
10/12/2016
85
$270,000
$161
Averages:
$256,448
$143
112
$244,566
$139