By Sofia Yarberry

Overview of events in Palm Springs and Greater Palm Springs for the 2017 calendar year.
Throughout the year, and every Thursday, Palm Springs Villagefest is a great way to experience the Palm Springs culture of art, food, and entertainment. At this event you will find packed with artists and artisans as well as peddlers of fresh produce, flowers, jewelry, and baked goods. Plus, since it is located right in the heart of Palm Springs, you can easily access the restaurants, art galleries, and everything else that downtown has to offer!
6-10pm / Palm Canyon Drive between Amado & Baristo
(760) 320-3781 / villagefest.org
JANUARY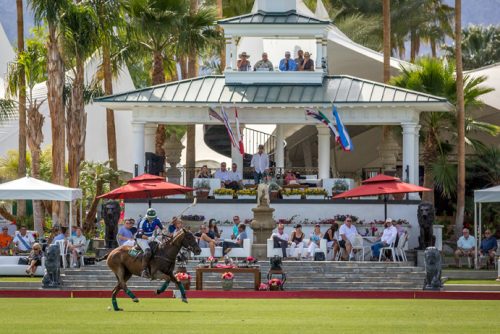 Opening Day of the 2017 Polo Season, January 1st and 8th, 2017
Whether you are a polo aficionado or simply looking for something to do with your day off, you may want to head over to the Empire Polo Club to join the kick off of the Season (January 1). There are two featured matches at 12 & 2pm— perfect for sleeping in after New Years. If you missed the event on the first: "Opening Day & Hat Day" will be January 8.
Empire Polo Club, Indio
(760) 393-7298 / empirepoloclub.com
Palm Springs International Film Festival, January 2-16th, 2017
One of the biggest events of the year in Palm Springs is The Palm Springs International Film Festival put on by The Palm Springs International Film Society. This festival serves "to enrich, to educate, to entertain, to initiate cultural dialogue and celebrate cinematic excellence in any language." This year there are films reigning from Austria to Venezuela in all genres. Check out the site for trailers and to purchase tickets!
Mary Pickford Theatre: 36850 Pickfair Street, Cathedral City
(760) 322-2930 / PSFilmFest.org
Kennel Club of Palm Springs Dog Shows, January 5-8th, 2017
If you love dogs then this is the show for you! The American Kennel Club judges the annual Palm Springs Dog Show, some of what the categories include, competition in conformation, junior showmanship, obedience, agility, among others. The event has food and beverages and is perfect for anyone at any age.
Empire Polo Grounds, Indio
(760) 345-1757 / kennelclubpalmsprings.org
Desert Warbirds Radio Control Airshow, January 14-15th, 2017
Calling all Veterans, aviation experts and intermediaries, WWI & WWII history buffs, and anyone who loves a good cause— this beautifully done simulation of combat aerobatics raises money for wounded Veterans. Come by and check out these radio-controlled scale models of World War I and II jets flown by skilled pilots
Regional Park: 89452 54th Ave., Thermal
(760) 340-0836 / cvrcclub.com
Career Builder Challenge (Formerly the Bob Hope Classic), January 16-22nd, 2017
Palm Springs area host city La Quinta, CA started as the Bob Hope Classic is now the CareerBuilder Challenge 2017. PGA Golf tour tournament with a new leading role Phil Mickelson. A Palm Springs golf tournament is a Pro-Am play for first 54 holes. Each of the 156 pros will play with a different amateur partner each day on different courses Arnold Palmer Private at PGA West, Jack Nicklaus
8:30am / 77-750 Avenue 50, La Quinta , CA 92253
(760) 346-8184 / careerbuilderchallenge.com
Adult Park After Dark, January 20th, 2017
This zoo like desert paradise is a great place to take the kids during the day; however, after dark it is a great place to meet up with friends or for a date night with that significant other. The night includes a close-up animal presentation and a guided walks throughout the grounds, followed by making s'mores over a crackling campfire, and either a beer, vodka, or bourbon tasting to cap off the night. Pre-registration required. Must be 21+.
5-8pm / The Living Desert, Palm Desert
(760) 327-1304 / livingdesert.org
Tour de Palm Springs (sponsored by CVSPIN), January 21st, 2017
This cyclist-centric event is designed to raise money to support more than 100 local charities throughout the Coachella Valley. In the midst of the warm Palm Spring winter and the sun rising over the mountainous backdrop— this truly is a site to see! Vendor Expo on the 20th and 21st.
6:30am / Downtown Palm Springs: Alejo & N Palm Canyon
(760) 674-4700 / tourdepalmsprings.com
Southwest Arts Festival, January 26-29th, 2017
Full of interactive art displays, live music and glass blowing, pottery, and fine art, and tons of food from local vendors, makes the Southwest Arts Festival an event you won't want to miss. This is one of the Coachella Valley's largest annual fundraisers that serves to support numerous locally based non-profits.
10am-5pm / Empire Polo Club, Indio
(760) 347-0676 / discoverindio.com
FEBRUARY
Dr. George Charity Car Show, February 11th, 2017
One of the biggest fundraisers for the Desert Cancer Foundation— raising tens of thousands of dollars every year. This is also an event for ant classic car collector or enthusiast! The car show boasts of food, vendors, raffles, entertainment, and a silent auction. Come by to see Street Rods, Classics, Muscle Cars, Special Interest Cars, Trucks, and Motorcycles dotting Indian Wells Tennis Garden— a site to see for all ages. There will be awards given out at 2:00pm, so make sure to get there early!
9:00am-3:00pm / Indian Wells Tennis Garden
(760) 360-9798 / palmspringscruisinassociation.com
Modernism Week, February 16-26th, 2017
Modernism Week has it all for anyone even remotely interested in Mid Century Design and Architecture— from a tour of Frank Sinatra's Neighborhood & a night at Frank Sinatra's Estate
to Rack Pack Playground: Modernist Homes of Vista Las Palmas Historical Walking Tour to
Creating That Perfect Modern Indoor-Outdoor Sanctuary, just to name a few. Modernism Week's mission is "to celebrate and foster appreciation of midcentury architecture and design, as well as contemporary thinking in these fields, by encouraging education, preservation and sustainable modern living as represented in the greater Palm Springs area." They uphold this mission by offering more than 250 events including the Modernism Show & Sale, Signature Home Tours, films, lectures, Premier Double Decker Architectural Bus Tours, nightly parties and live music, walking and bike tours, tours of Sunnylands, fashion, classic cars, modern garden tours, a vintage travel trailer exhibition, and more.
Various Locations & Times, check out their website for more information:
modernismweek.com
6th Annual Art Palm Springs, February 16-19th, 2017
This event is strategically planned to coincide with Palm Spring's Modernism week— attracting may of the same people. If you are in the market for a new piece of art then Art Palm Springs is a weekend you won't want to miss. Last year hundreds of art pieces from post-war and contemporary collections were sold to collectors, and Art Palm Springs 2017 is expecting to bring in even more collectors this year.
All Day / 277 N Avenida Caballeros, Palm Springs, CA, 92262
(800) 563-7632 / art-palmsprings.com
MARCH
Indian Wells BNP Paribas Tennis, March 6-19th, 2017
The World's Largest ATP World Tour and WTA Combined Professional Tennis Tournament happens right here in the desert! The tournament features top men and women professional tennis players competing in a 96 singles draw and 32 doubles draw. The BNP Paribas Open is considered to be one of the most beautiful venues— the spring weather in the desert is known as one of the best times of the year. In 2015, more than 456,000 people attended the event so make sure to get your tickets early!
Indian Wells Tennis Garden 78200 Miles Ave, Indian Wells, CA 92210
(800) 999-1585 / bnpparibasopen.com
Dinah Shore 2017 Golf Tournament, March 29-April 2, 2017
If Gay Pride in November is too far away— perhaps think about purchasing tickets to one of the biggest gay events in the US— especially for the ladies. Dinah Shore is put on by the famous Mariah Hanson and has been going strong now for over twenty years. You can expect (pool) parties, celebrities, and tons of live music from bands like Tegan and Sara, Katy Perry, Lady Gaga, and more!
All day / The Hilton Palm Springs 400 E Tahquitz Canyon Way, Palm Springs, CA 92262
1-888-92-DINAH (34624) / thedinah.com
APRIL
Coachella Music Festival, April 14-16th & 21-23rd, 2017
Possibly the biggest music festival in the country takes place right outside of Palm Springs in the Coachella Valley. Although many Coachella goers campout in the often blazing month of April, If camping isn't your style make sure to book hotels or checkout other housing options! This event is all ages, but recommended more for those 18+. Although much of the hype takes place on the Coachella grounds definitely check out places like the Ace Hotel and other venues throughout Palm Springs for events happening in cahoots with the concert! Past performers have included the Vandals, the Chainsmokers, RL Grime, and many more!
All day / 81-800 Avenue 51, Indio, CA 92201
(855) 771-3667 /coachella.com
Stagecoach Music Festival, April 28-30th, 2017
If Coachella isn't your style maybe one of the biggest country music festivals will do the trick. Stagecoach boasts of some of the biggest names in country music like Kiefer Sutherland, Willie Nelson, & Brooke Eden. This festival takes place on the same grounds as Coachella and there are offsite camping options plus plenty of places to stay in Palm Springs!
All day / stagecoachfestival.com
MAY
White Party, May 5-8th, 2017
Next Magazine has dubbed him, "the sultan of all soirees" and the Miami Herald has called him "the high priest of gay parties". This Jeffrey Sanker produced party is not one to miss. Expect lots of dancing, booze, and performances by top names in entertainment like Lady Gaga and Ke$ha. 21+
Renaissance Hotel Palm Springs 888 E. Tahquitz Canyon Way
(323) 782-9924 / jeffreysanker.com
JUNE

Restaurant Week, June 2-11th, 2017
Restaurant Week 2017 will feature even more restaurants than last year, which means top creations from over 100 locations that are sure to wow diners during this much anticipated culinary event. Meals will be value priced and many hotels and attractions will be offering discounted rates throughout the week. This is one of the most delicious ways to obtain "The Ultimate Desert Experience". Past restaurants include Trio, King's Highway, Cafe' Des Beaux-Arts. Visit them on facebook for more information!
PalmSpringsRestaurantWeek
NOVEMBER
Gay Pride, November 1-5th, 2017
One of Palm Springs' favorite times of the year comes just before the holidays— Gay Pride has been going strong throughout the Coachella Valley for over 30 years. This event includes an all out festival, parade, and the "Harvey Milk Diversity Breakfast"— plus for pet lovers there is also a Pet Pride Parade! Check out the website for flight and hotel specials going on with the pride event.
Various Locations & Times
(760) 416-8711 / pspride.org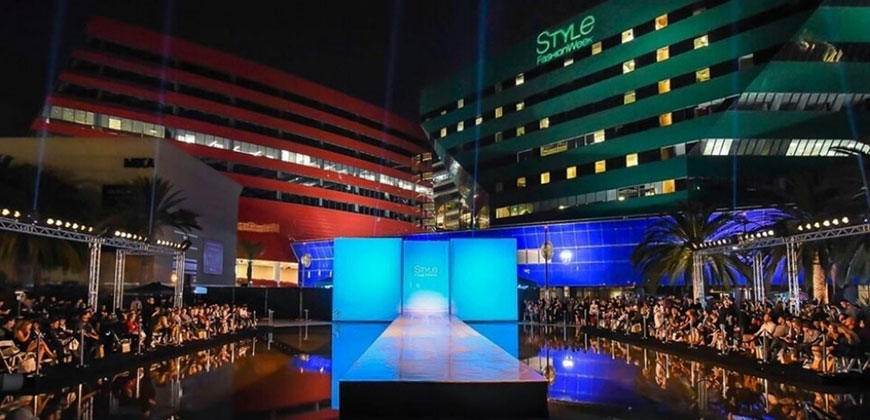 Fashion Week, November 8-12th, 2017
Palm Springs takes its place among fashion capitals New York, Los Angeles Cairo, and Dubai as one of the locations chosen for Fashion Week— produced by Style Fashion Week. These globally recognized fashion events provide some of the world's top designers a platform to showcase their collections. Style Fashion Week represents the cultures of New York, Los Angeles, Miami, Santa Fe, Boston, Palm Springs and Dubai by integrating international designers, media, celebrities, and commerce— making this an event that not only the big names in fashion get to attend, but one in which anyone interested in clothing can visit. You can expect over 20 international & local designers and over 30 international & local artists to be present.
Palm Springs Convention Center
stylefashionweek.com
A Cabbello "Salzburg" Concert
the Music of Mozart, Schubert and The Sound of Music
Sunday, Nov 12, 3 and 7pm – Tickets $20 and $30.
Location:
THE BANK: 383 S Palm Canyon Dr, Palm Springs, CA 92262
Travel with A Cabbello to magical Salzburg and experience clever and dynamic musical arrangements of Mozart and SchubertClassics and The Sound of Music.
The skilled male singers of A Cabbello perform a cappella with tight harmonies and unique approaches to old and new classic.