A large Meiselman just sold in Central Palm Springs, neighborhood of Sunrise Park, with South facing yard and mountain views.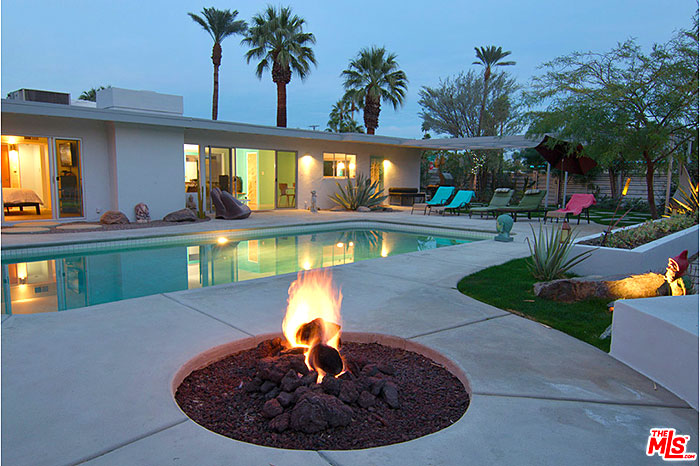 Map: 2193 E Terry Lane, Palm Springs, CA 92262
MLS # 14-777075PS   –   
Sold Price: $649,000
3 Bedrooms, 2 baths, 1944 sq ft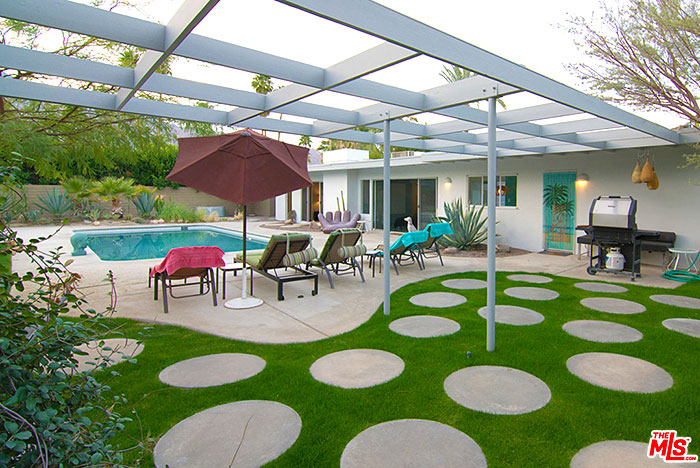 Terry Lane is home to some of Sunrise Park's most impressive Mid Century Moderns, including this spacious Meiselman. Sited on an oversized lot, this successful vacation rental opens with a distinctive, multi-faceted driveway. Expansive south-facing backyard with spectacular mountain vistas features a big saltwater swimming pool flanked by an in-ground fire pit paired with built-in bench, misting system, various seating areas, and imaginative hard-scape design softened by native vegetation.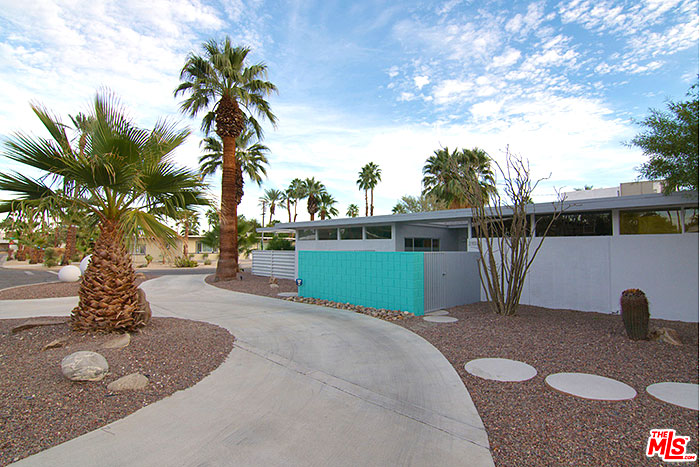 "Great flow" describes the open floor plan, anchored by a bright, rambling great room. Wall space in traditional living room delivers an old-school drive-in movie experience with projector, alongside gas fireplace. Clerestory windows invite natural light and mountain views in, while wide-open views to backyard complement the overall flow. Meticulously preserved vintage baths, newly polished concrete floors, honeycomb blinds, and custom-built storage shed among the extras!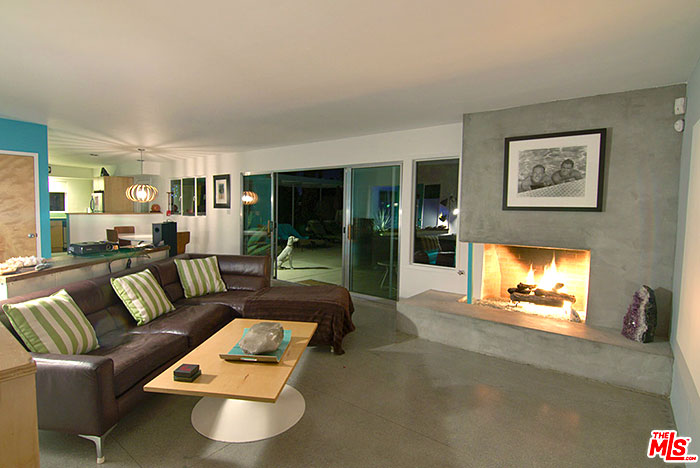 The local builder, Jack Meiselman, worked with Bob Alexander (Alexander Construction Co.) in a joint venture on a number of the "Alexander" homes. At some point there was a falling out between the two men and Jack Meiselman decided to get out of the partnership. Seeing a great and lucrative opportunity in these new 'modern' tract homes, he and his brother Bernie would buy the adjacent parcels to the ones Alexander bought and develop. He came up with a "Modified Alexander" layout and built roughly 350 tract homes sprinkled amongst the Alexander Homes in Palm Springs, CA.
William Krisel, a legendary Palm Springs architect, had the following to say about Meiselman:  "Jack Meiselman was a cheap hack who stole our plans and built a poor imitation using inferior materials and unskilled labor! That's all I have to say about him."
While one must admit that Meiselman`s methods might have been unscrupulous at best, I have to disagree with Mr. Krisel on a few points. A Meiselman Home is no more cheaply built than the equivalent Alexander. They all used the cheapest materials available. Also, Meiselman introduced separation of space by configuring the guest rooms on the opposite end of the house from the Master.
And finally, Alexander and Meiselman were both in this game for the money. To make money on these homes you had to do 3 things: Buy the land cheap, use cheap labor, and build with cheap materials. What happened in the process is that they defined affordable desert modernism and carved out a unique niche of modern homes in the late 50's and 60's.