Although Joseph Eichler built over 11,000 homes in 12 different California communities, none were ever constructed in Palm Springs.
That is until now. KUD Properties has announced the company will build an Eichler home within Palm Springs and plans to develop additional properties and even an entire community if the new home is well received.
The proposed 2,177 square foot A-frame Eichler will feature a fireplace, pool, floor-to-ceiling windows, tongue-and-groove ceiling with exposed beams and a 424-square-foot atrium. In an interview with The Desert Sun, Troy Kudlac, a principal of KUD Properties, stated, "I fell in love with the Eichler homes when I was out in Orange, and I remember being in one and going, why aren't these in the desert?"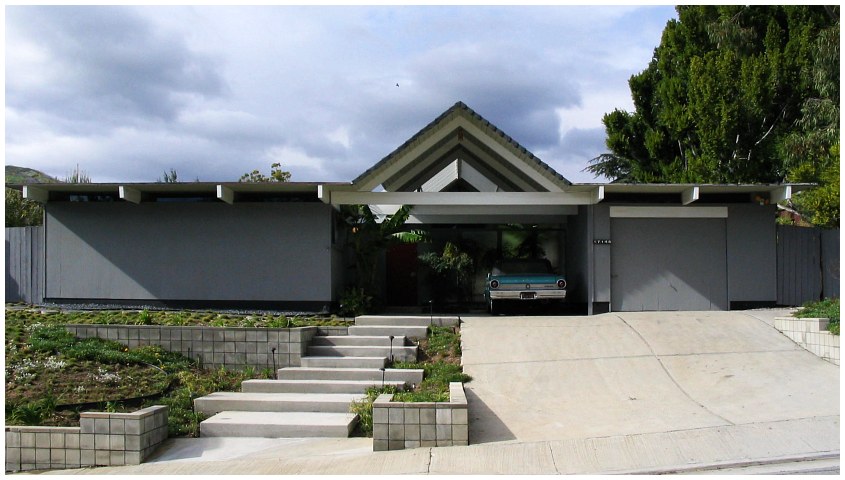 During recent years, Eichler homes have become very sought after. With flat and/or low-sloping A-framed roofs, Eichler homes also feature vertical wood siding with simple facades and clean geometric lines. The indoor/outdoor living concept was important to Eichler so homes were constructed with skylights and floor-to-ceiling windows as well as glass transoms. Outdoor rooms, patios, atriums, gardens, and swimming pools were important to the Eichler design. Most Eichler homes are very private from the front with very few, if any, front or street facing windows. In comparison to the mass-produced, suburban homes being built at the same time, Eichler homes were airy and modern.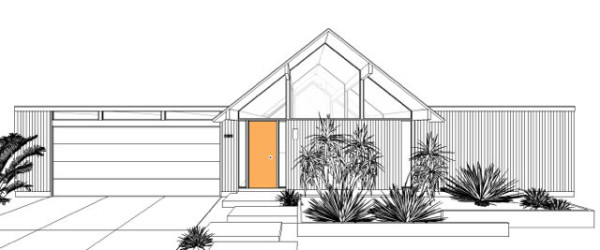 Interiors remained true to the modern home design with exposed post-and-beam construction, tongue and groove planking for the ceilings which followed the roofline; concrete slab floors, mahogany paneling, sliding interior entry doors, and standard full-size master bathrooms. Eichler homes in later years featured an entry atrium which is an open-air enclosed entrance foyer that capitalized on Eichler's concept of bringing the outside in.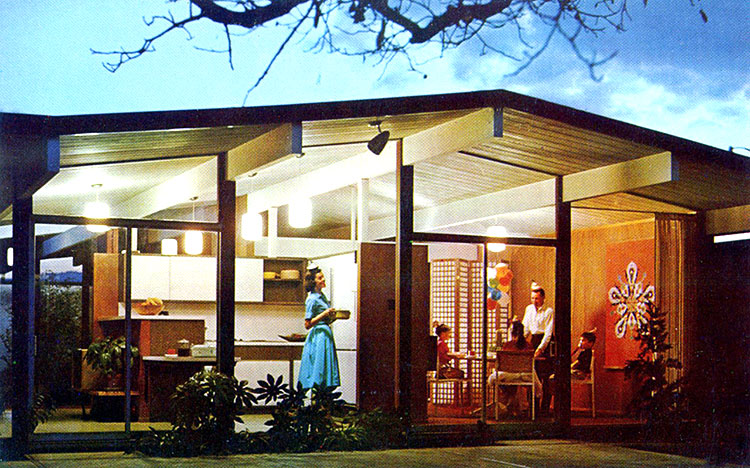 Although the Palm Springs housing market of that era would have been perfect for Eichler, he never entered the desert area real estate arena. Eichler homes are prevalent throughout the Bay Area and three communities in Southern California. Joseph Eichler's company, Eichler Homes, built the properties from 1950 to 1974.
KUD Properties plans to build four different Eichler homes with floor plans from 1,800 to 2,400 square feet. Kudlac said he has an agreement with Monique Lombardelli of Modern Homes Realty in Menlo Park to use original plans licensed from the UC Berkeley Environmental Design Archives. KUD Properties' first Eichler home will be built in South Palm Springs in the Andreas Hills neighborhood.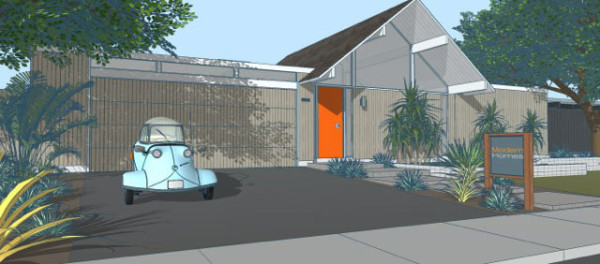 People in Glass Houses: The Legacy of Joseph Eichler – Feature Film Directed by Kyle Chesser from Kyle Chesser on Vimeo.
Alex Dethier is a REALTOR® with The Paul Kaplan Group, Inc.,  a boutique real estate firm specializing in architectural homes, vacation properties, and condos in the Palm Springs area.