By Sofia Yarberry
Generation X was the generation most affected by the 2008 recession
— the term "Generation X" refers to those born between the mid 1960s through the 1980s.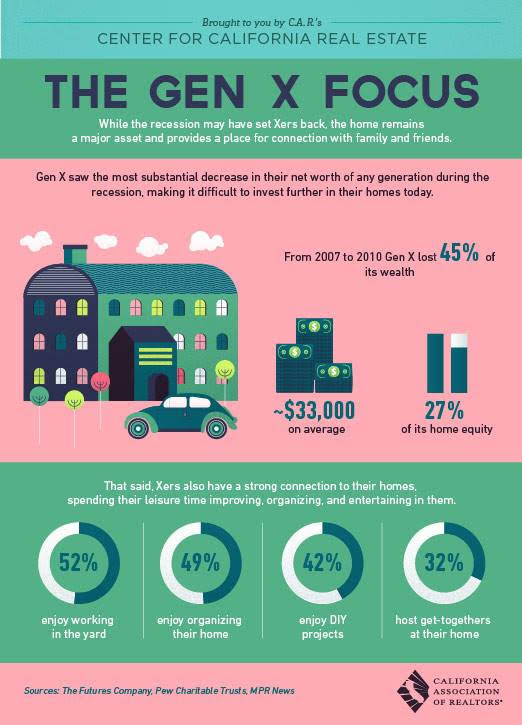 This group of people, the Generation X, lost 45% of their wealth between 2007-2010. Another way to understand this epic financial damage is that on average the individual's loss was $33,000 or 27% of their home equity. Obviously, this put Gen X at a disadvantage with buying a house or devoting the money necessary to revamp one's property. Yet, although the recession hit Gen Xers harder than most the recession has not stopped them from investing in their homes today. The home has become an asset to many Xers as a place to connect with family and friends; for instance, it is reported that nearly 32% of Generation X likes to host get-togethers in their homes. Xers are also reported to spend much of their leisure time improving their homes: 52% of Xers have said that they enjoy spending time in the yard, 44% enjoy DIY projects, and 49% enjoy organizing their homes. This generation may have been economically slighted in the early 2000s; however, being, as author Paul Taylor has said, "savvy, skeptical, & self-reliant," perhaps it is less of a surprise that Gen X has found such sanctuary in their homes. Since Gen X lived through one of the most financially unsettled times in American history being able to find ways in which to create an individual and stable environment may been one reason Gen X loves hanging out at home.
Whatever the reason may be for Xers enjoying their time in the yard and spending the weekends reorganizing their rooms, I think just about all of us can relate: regardless of the recession's impact, we all are striving to have a home that we can enjoy and spend, at least a little time, relaxing in. Seeing this dire need to spend time in the house is a great thing for Palm Springs real estate, which is still affordable and allows for such group to purchase a home where they can entertain!
Contact Alex Dethier if you are considering a home purchase in Palm Springs.