Palm Springs Restaurant Week 2014 is just around the corner, which means seven days of utter deliciousness that starts May 30th – what a way to start summer and explore all that Palm Springs has to offer!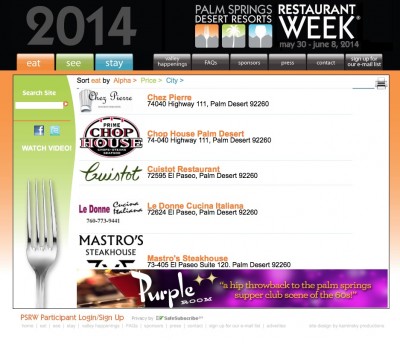 After mornings and afternoons spent searching for the perfect home, head into one of Coachella Valley's nearly 100 restaurants offering prix-fixe menus (ranging from $26 or $38). Palm Springs real estate specialist Alex Dethier of the Paul Kaplan Group will be be there, sampling the tasty dishes, so say hi if you see him, and talk to him about the sensational homes and condos for sale in the area.
Local hotels and attractions will be offering special discounted rates as well, so for our out-of-town visitors, this may be the perfect time to come, relax, and enjoy. A week of desert dining at its best, participating restaurants include Citron at the Viceroy, Copley's (formerly Cary Grant's guesthouse, now a beloved Palm Springs institution), Jake's, and The Purple Room.
The festivities begin May 30 and continue till June 8. Between bites, contact Alex Dethier to learn more about real estate in the charming Coachella Valley.    See you there!