By Sofia Yarberry
Palm Springs is ranked 12th on the list of the 25 top destinations in the country by Trip Advisor. How can it not be!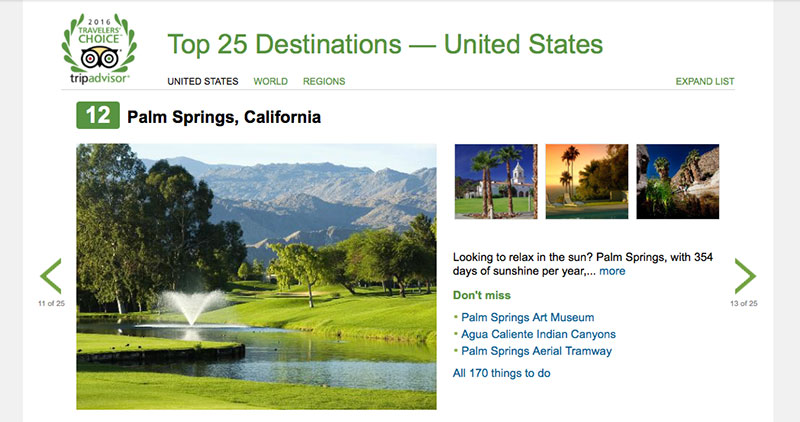 The article lists relaxing pool side, checking out one of the many spas, or viewing some of the best examples of mid century architecture as a few of the many activities one might do while in this desert oasis. In addition to tanning, getting a massage, and cruising through historic neighborhoods like Vista Las Palmas and Racquet Club Estates, one might also want to start the day at one of the trendy coffeehouses like Ernest Coffee of Koffi, then spend the day viewing the contemporary art collection at the Palm Springs Art Museum, and make reservations for a delicious meal at one of the many hip restaurants lining the streets of downtown – try Mr Lyons, SO PA, or Purple Palms at the colony Palm  hotel for instance.  Want a fabulous coffee or a light fare, don't miss Joey in Downtown Palm Springs!
Although Palm Springs used to be a place for old Hollywood (and then a place for retirees) Palm Springs is now consistently listed as one of the hippest cities in America.
The Ace Hotel, Coachella festival, and the Art galleries have made it a haven for artists, hipsters, the LGBTQ community, and anyone who likes spending the day poolside with a glass of rosé.
Perhaps now is a good time for that vacation or investment home!  Browse available properties in Palm Springs
REF: Trip Advisor link.