By Sofia Yarberry
Local Palm Springs landscape designer, Paul Ortega, sat down with me to give our readers some insight into "desert friendly landscaping." As any California native knows we are in a serious drought, which has caused us all to become eco-thinkers and trade in our water guzzling grass for less water consuming vegetation.

Ortega started out by clarifying that when designing your landscape with desert plants, the plants do not necessarily need to be native to Palm Springs. A desert friendly garden can be furnished with plants from any desert— including neighboring states like New Mexico and Texas all the way to the deserts of Africa and Australia. However; the plants do need to meet some mandatory expectations:
– Able to withstand extreme conditions. This means the lows of winter (25°F) all the way to the summer heat (110°F).
– Water Efficient. Ortega shared the fact that nearly 75% of water waste is from the use of water outside the home.
– Maintaining Habitats. The desert has an abundance of local species that need to be considered when redesigning outdoor areas.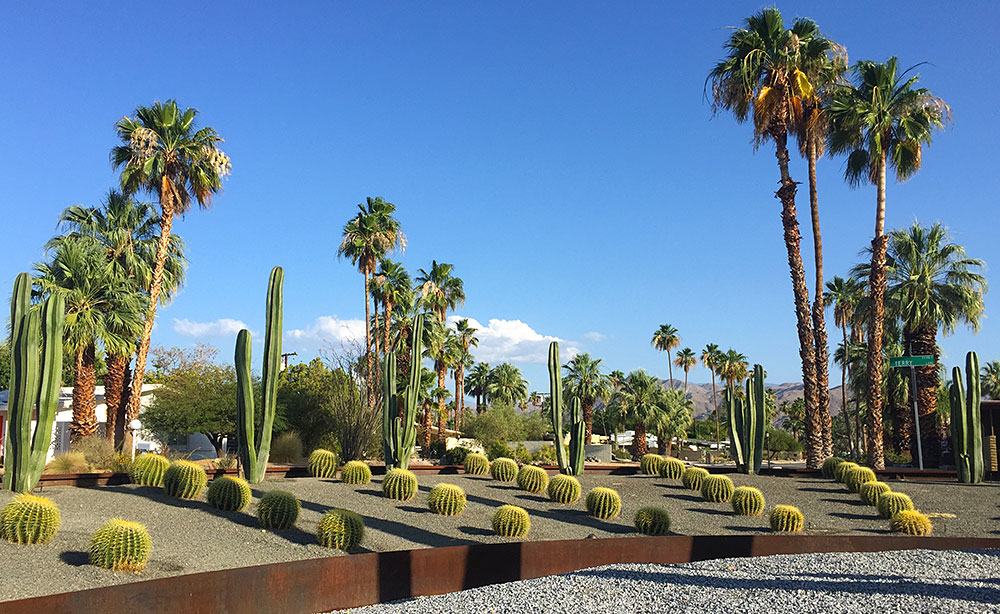 By designing your outdoor area with this in mind, whether it's your patio or a public park, the space can be transformed into a functioning part of the desert eco-system.
Although the environment is obviously the most important, aesthetics are important too.
Ortega points out that many people have a preconceived idea of what a desert landscape looks like— minimalist generally comes to mind. This notion of desert-minimalism is actually quite chic in Palm Springs due to the popularity of modernist architecture; however, for those who want a lush, full, green, and flowered look there are more options than you perhaps first thought. I asked Paul to give us some of his favorite desert friendly plants and here are a few:
All of these are not only stunning, but many of them also attract hummingbirds and butterflies. All of these are great desert plants that are drought tolerant, offer habitats to local species, and can survive extreme weather.
I asked Ortega what plant is a big NO for drought friendly desert landscaping? He answered, "Ficus."
This popular plant not only uses a lot of water, but also needs fertilizers, pesticides (Ficus is known to attract white fly), and has an invasive root structure than can harm concrete if planted too close. If you like the look of Ficus, Ortega assures that there are some desert friendly alternatives, "Hopseed Bush, Shiny Xylosma, and Carolina Cherry" are a few that came to his mind.
Paul Ortega is extremely knowledgeable in desert friendly landscaping and has played a huge role in the landscape of Palm Springs— he is a co-founder of the Desert Horticulture Society and has served as a member of the Architectural Advisory Committee for the City of Palm Springs among many other relevant accomplishments. If you are interested in consulting Paul Ortega check out his website at paulortega.com
Ortega also provided some places to check out desert friendly landscapes, Nurseries to visit, and places to get turf alternatives.
Examples of Desert Friendly Landscaping:
The corner of Hwy 111 and El Paseo has one of the best examples of a desert garden
The Living Desert
Desert Horticulture Society Garden Tours
Nurseries
Vintage Nursery (Palm Springs)
Moller's Garden Center (Palm Desert)
Mariscal Cactus and Succulents (Desert Hot Springs)
Ground & Gravel
South West Boulder and Stone (Cathedral City)
Whitewater Rock (Whitewater)