By Sofia Yarberry
Step by step guide on how to purchase your new Palm Springs property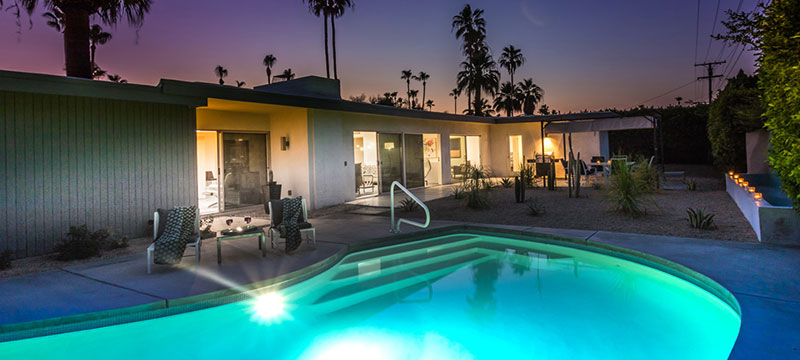 Remember: We are here to help you each step of the way! The purchasing process may seem overwhelming at first, but we promise to make it as simple as possible so you can get that desert home you've always wanted.
Step 1: If you are going to finance your purchase, you will need to get preapproved with a proper lender. If you are a foreign national, check out: Loans for Foreign Nationals for more information, but keep in mind that most loan programs require 30% to 50% down for foreign investors. Another thing to keep in mind in Palm Springs is that nearly half of the properties are on Indian land and will require a lender that specializes on lease land.  (view some local lenders here)
Step 2: This is the best part: Search for properties! Checkout our listings and let us know what you're looking for: 2 bedroom? pool? golf course? and we will email you a variety of listings that fit your criteria. When you find a property that interests you we will, of course, promptly provide feedback and answer any questions you may have. When you're ready to visit Palm Springs, we'll meet with you and show you around! There are a variety of neighborhoods and historical properties that truly are a must see. (see the latest Palm Springs home listings here)
Step 3: Once you have picked your favorite property, prepare and submit an offer. Then you will most likely go through rounds of negotiations with the seller (a good buyer's agent should get you a good price on the purchase) and finally and hopefully get your offer accepted! From there on, we bring in the escrow company (a third neutral party that will manage the transaction and everything is correct) and open escrow. Within the first three days or escrow, you will require to make a good faith deposit, which is 3% of the purchase price. This deposit will be wired directly to the escrow company and will be kept in an escrow account.

Step 4: During the length of the transaction, you will generally have a 17 day inspection contingency during which you will want to schedule a home inspection by a licensed professional (Inspections generally cost $350+ depending on the square footage). You will then be given a report itemizing the status of any defective items discovered about the property. If you find anything unacceptable you can either negotiate to have the seller make repairs, get a credit towards the close of the sale, or simply choose to cancel the contract.
Remember: ALL PROPERTIES IN CALIFORNIA ARE SOLD IN "AS IS" CONDITION. This means that a seller is not obligated to make any repairs; however, you do have the option to cancel your contract during your contingency period.
Step 5: Reading time! Review title reports, read over all the rules and restrictions, and, if applicable, the Homeowner Association information regarding the property, if your purchase is in an HOA community. If for any reason you do not accept something within these documents you may cancel the contract still during your 17 day contingency period.
Step 6: Proceed with purchase! (you're almost done!)
Step 7: If you are financing, you will have a 21 day loan contingency period which protects you in case your lender suddenly realizes they cannot lend you the funds. Otherwise, once the loan contingency period is passed, you are now ready to go sign loan documents. Then, you close escrow … and finally get keys to your new desert home!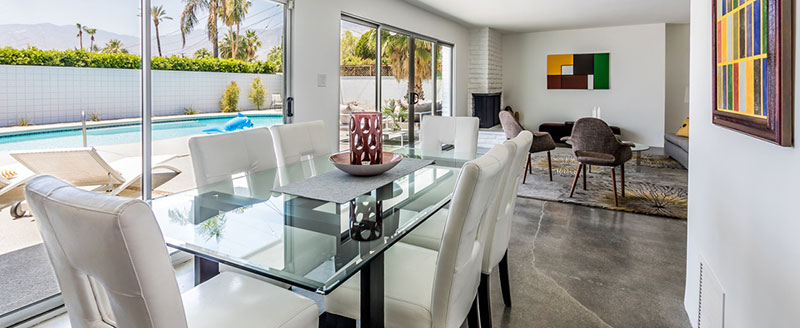 Note: The purchase process typically takes anywhere from 30 (no loan) to 60 days (loan on Indian lease land) to process. You do not have to be present when Escrow closes.
Other Costs to Keep in Mind:
– The average cost of the property will be the price of the property, plus approximately an additional 2% of this price in order to cover escrow and purchase expenses.
– Keep in mind that if you are paying with cash, your closing costs will be less.
– Home Inspection will average around $400 to $500, depending on the size of the property.
– Property taxes are approximately 1.25% of the purchase price annually.
– If buying a condominium, Home Owner Fees varies for different properties, but averages about $400/month.
– If buying on lease land, the yearly fees and length of the lease will vary for each property
– Maintenance Fees, which obviously will be different for each home, but here are some examples – Single family homes: On average, you can expect to pay approximately $100 -$200/month for landscaping and $100/month for Pool maintenance for a typical three-bedroom home. These fees are not applicable if purchasing a condominium.
– Utilities (Gas, Electric, Water, Phone, Trash, Cable) will, of course, just vary depending on usage.
– For those without a US Social Security Number you will be subject to the FIRPTA withholding. This is a one time deposit against your income tax that is taken out of the proceeds when you sell the property. It is held until you pay income and/or capital-gains taxes on the sale of your home— it is approximately 10% of the sales price. (It isn't as bad as it sounds!)
– And last but not least! TAXES: Although renting out your property can be a great source of income just doesn't forget that rental income will be taxed by the IRS as income in the US.
– Remember that these costs are estimates and can vary depending on the type of loan you get for the property. (Your lender will give you a Good Faith Estimate that will provide more detailed costs).
Please feel free to get in touch with any further questions about this extremely exciting process!