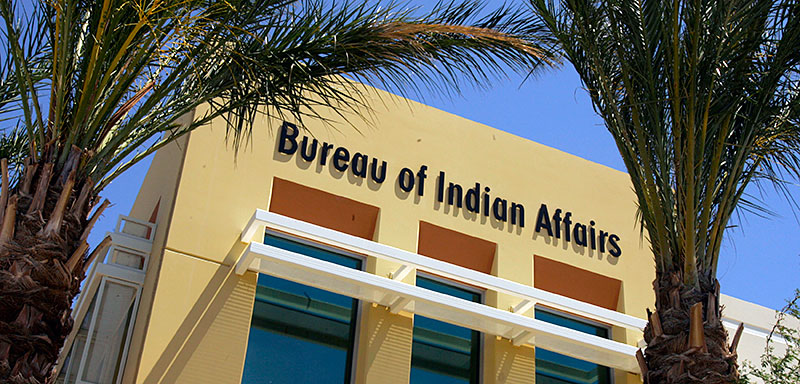 Palm Springs is scattered with what is called Indian Lease Land. Here is a bit of history to explain why this is:
"In 1877 as an incentive to complete a railroad to the Pacific, the U.S. government gave Southern Pacific Railroad title to the odd-numbered parcels of land for ten miles on either side of the tracks running through the Southern California desert around Palm Springs.
The even-numbered parcels of land were given to the Agua Caliente, yet federal law prohibited them from leasing or selling the land to derive income from it. In 1884, Judge John Guthrie McCallum of San Francisco arrived in Palm Springs with his family, seeking health for his tubercular son. The first permanent non-Indian settler, McCallum purchased land from Southern Pacific and built an elaborate aqueduct. His work to bring water to the Coachella Valley foreshadowed the area's current importance as a rich agricultural region. Dr. Welwood Murray built the first hotel, The Palm Springs Hotel, in 1886.
Palm Springs continued attracting more visitors and residents. Congress passed the Mission Indian Relief Act in 1891, authorizing the Secretary of the Interior to make individual allotments from reservation lands. However, it would be another 50 years before the Indians, taking their case to the U.S. Supreme Court (Lee Arenas v. United States, 1944), would win the legal rights to have allotments approved."
Source: http://en.wikipedia.org
THE POTENTIAL FINANCIAL BENEFITS of INDIAN LEASE-HOLD LAND versus FEE-SIMPLE LAND
The main advantage of indian lease land is that you can buy a home for up to 25-30% less than on fee simple land. Simply put, you only buy the home and not the land. Secondary advantage is at the taxation level. You are not taxed on the land, but only the price of the structure.
Here is some quick math to help you see these benefits up-front: (note: this is only an example based on this current listing. Exact figures should be reviewed by an accountant, Tax professional, and/or lender).
A house on fee-simple land is worth $400,000.00 but might only be $300,000.00 on lease land.
Taxes would be an additional ~$100.00 a mo. and the added mortgage on the land would be an additional $600.00 a month or $8,400.00 per year.
The lease for such a home, which will not expire until 2068, will cost you 3600.00 per year. The net difference for you is is $4,800.00 or $400 per month.
Is staying away from Indian Lease land really worth leaving such an amount on the table every month?
As an expert agent with Palm Springs Lease Land I can help you do some of the leg work to compare the comps and the numbers and many other factors about the lease in question.
Remember that some may tell you to stay away from lease land and others say its OK. With good guidance, proper research, you will have the information you need to make an intelligent decision and quite possible end up with a lot more house than you bargained for … or a much lower mortgage payment.
Here is a map of the Palm Springs Indian and Fee Land map. Click on the map to download the high resolution version.
For more information on Indian Lease Land, please contact the bureau of Indian Affairs, TESA Branch in Palm Springs at (760) 416 3289
None of the above statements can be guaranteed. Before you get into a transaction on Indian lease land, you should read and review all contracts, leases and information about the specific lease as all leases are unique. We recommend you consult with your accountant, attorney, and tax advisor prior to making any purchases on Lease OR Fee land.