Meet Alex:
---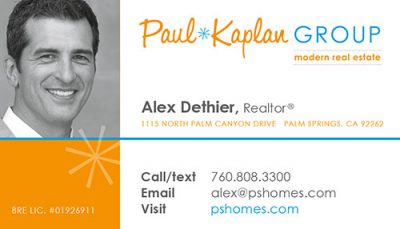 Alex Dethier
entered the real estate profession at the Paul Kaplan Group with a goal in mind: to find the absolute best solution for people who are looking for the perfect home or part-time residence. "It is so rewarding to see people step through the door of a home and know that this is the right place for them."
In addition to his broad knowledge of Palm Springs and the surrounding areas, Alex also brings a global perspective to customers needs. Born in Normandy, France, he left Europe for schooling in the United States and grew up in Marin County, CA. He put his technical abilities to work in Silicon Valley at the height of the boom, and then was drawn to real estate. A great example of the successful transition between high-tech marketing and real estate is Alex's condo specific website launched in 2014;
pscondos.com
, which has since become the #1 condo real estate portal in Palm Springs and Greater Palm Springs. In 2017, he launched
pshomes.com
which has been on the heels of Palm Springs Condos. In late 2018, seeing a lack of focus on Rancho Mirage, CA real estate, Alex launched the only website focusing on Rancho Mirage and all of its communities:
ranchomiragelistings.com
Alex' interests and passion for travel have taken him from Africa to New Zealand. "My travels have given me considerable insight into the international real estate community and allow me to understand the nuances of both domestic and international customers and their lifestyle aspirations."
As an enthusiastic resident of Palm Springs, he believes that, "This region offers an exciting market with a broad spectrum of estates, homes, condos and resort properties." His base also includes Rancho Mirage, Palm Desert, and Cathedral City.
Alex was top New Agent at the Paul Kaplan Group in 2013, and top producing agent in 2014, 2015, 2016, 2017, 2018, 2019. Alex received the Master Certified Negotiation Expert (MCNE) designation in late 2015.
Alex lives in Palm Springs with his wife Jennifer,
an artist agent
, his dog Maddie, and his 3-legged cat Sophie.