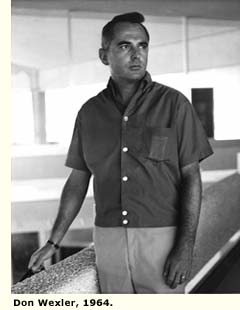 Architect Don Wexler traces his long road from humble beginnings
to Palm Springs 'Walk of Fame'
Don Wexler came of architectural age in a town where stardom was taken for granted. But Wexler never dreamed he'd achieve stardom himself. Today, however, he is very much a star among devotees of modern architecture, especially those who are denizens of the desert, where he has done virtually all of his work.
Although best known for his neighborhood of steel houses, designed for the Alexander Construction Company in the early 1960s, Wexler devoted most of his efforts to public and commercial projects, including Palm Springs Airport, the city's police department and jail, schools throughout the valley, the Larson Justice Center in Indio, the Merrill Lynch Building in Palm Springs, and the original Palm Springs Spa Bath House, which he designed with his former partner Rick Harrison, Bill Cody, and Pierre Koenig.
All of these projects, except the bathhouse, were steel-frame construction. At least seven of the schools were 'all-steel,' meaning steel walls and roofs as well. "I didn't use much wood at all," Wexler says.
Wexler also designed dozens of custom houses, many of them award winners; the Green Fairway Estates subdivision for the Alexanders; and many condominium and apartment complexes, both on his own and with partner Rick Harrison, including the Royal Hawaiian, Sagewood Condominiums, Twin Springs Condominiums, and the Rose Garden in Palm Springs, and Rancho Estates and Tamarisk Court in Rancho Mirage. His most recent project was the elegant and much admired four-home project, Tropicana, in Palm Springs.
He also designed dozens of custom homes and perhaps 200 tract houses, more than he can remember. "I forgot I did so much work," Wexler says, in his small office at the Professional Park, an office-condo complex of his own design. "But I have to admit, I was always busy, for 50 some years that I practiced, or almost 50 years."
Today Don lives in Palm Springs. He had three sons — a photographer, a graphic designer, and a psychologist — with his first wife, Lynn. His second wife, Nancy, recently passed away. He remains active in architecture, as a consultant architect Lance O'Donnell of O2 Architecture, a longtime fan.
Don recently received the Palm Springs Modern Committee's Lifetime Achievement Award and was honored with a star on the 'Walk of Fame.'