Most of the tract homes built by the Alexander Construction Company in the late 50's and early sixties were essentially based on the same concept that the house was divided in two. One side for the living and kitchen, the other for the 3 bedrooms and baths… all of it to fit into a cozy 1225 sq ft, and most homes on a nearly 1/4 acre of land.
Here is the basic floor plan of Alexander tract homes found throughout Palm Springs' Racquet Club neighborhood.
At first, Alexander homes were designed for sheer production efficiency, but in 1957, Krisel and Palmer came to Palm Springs in conjunction with the Alexander Construction Company with a new concept: to build stylish modern-style tract homes with clean lines and simple elegance that were affordable and even more efficiently producible.
Of course, the roof line of the homes could be varied from butterfly, A-frame and ranch models: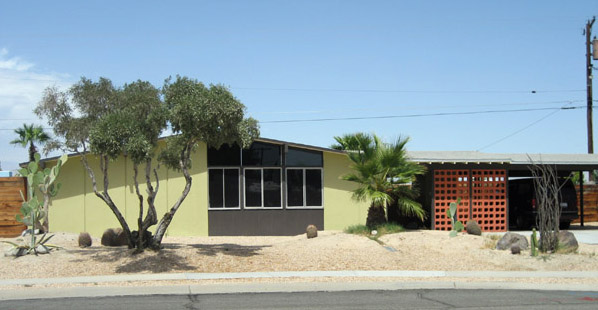 The Alexander Construction Company was a Palm Springs, California based residential development company that built over 2,200 houses in the Coachella Valley of Riverside County, California between 1955 and 1965.
The construction of these homes doubled the size of Palm Springs and caused the city to take on a new shape, direction, and character as an enclave of modern architecture in the Mid-century modern style. These houses, collectively known as "Alexanders," have come to be appreciated for their rational designs, modernist style, and innovative construction and are now highly sought after, selling for a premium over their more conventional contemporaries. (source – wikipedia)