By Sofia Yarberry
In the midst of the 1960's, Rock 'N' Roll newlyweds Elvis and Priscilla Presley honeymooned in what is now a quintessential Palm Springs mid-century modern home. 
For this reason, the house to some will always be known as "The Elvis Honeymoon House"— a tacit landmark, a museum of memorabilia, a stop on the old rock 'n' roll pilgrimage.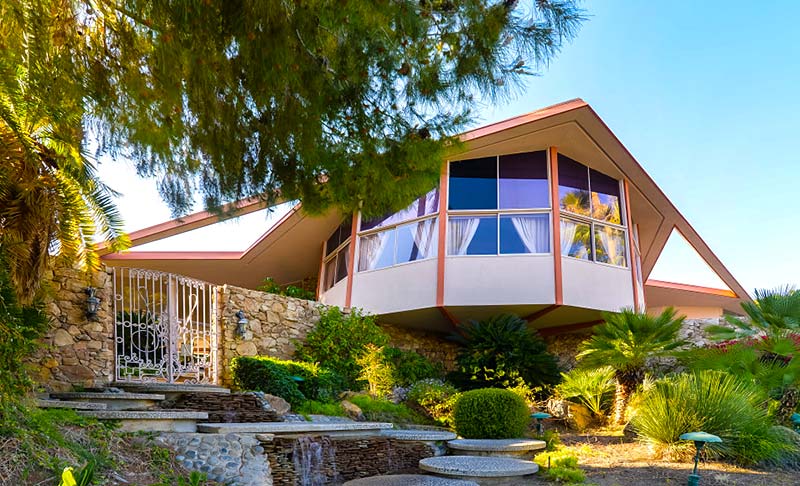 But to architects and design lovers, the Honeymoon House is an architectural gem, known as the "Alexander House of Tomorrow." The home was built in 1960 by the acclaimed Palm Springs developer, Robert Alexander, son of George Alexander and heir to the Alexander Construction Company.  Robert's early work was done in tandem with architect William Krisel to design many of the first modern styled homes in Palm Springs.
Their first major, and perhaps most famous, project was Corbin Palms. Both the junior Alexander and Krisel became notable figures in the mid-century modern home design movement. Their work can still be found throughout the desert — not only in "The Alexander House of Tomorrow," but also the Ocotillo Lodge.
One of the most impressive design aspects of "The Alexander House of Tomorrow" is that throughout its entire 5,500 sqft. and 3 stories, there is not a single square room in the house.
Since its construction, this futuristic mid-century home has become a site to see. Such a site that it is now up for sale for $6.93 million (Listing agent: Tracey Wrubleski Meeks / HomeSmart Professionals).
With a history seeped in Elvis, and the famed Robert Alexander on its name tag, the Alexander House of Tomorrow is more monument than home, and just one of the many gems hiding along the streets of Palm Springs.