by Jerry Braun – October 2022
Coachella Valley Firebirds Kick Off their Inaugural Season
The Coachella Valley Firebirds, the 32nd American Hockey League (AHL) franchise and affiliate of the National Hockey League's (NHL's) Seattle Kraken, have kicked off its inaugural season on October 16, 2022, in an away game against the Calgary Wranglers. The Seattle Kraken is the National Hockey League's newest franchise, just recently having completed their inaugural season.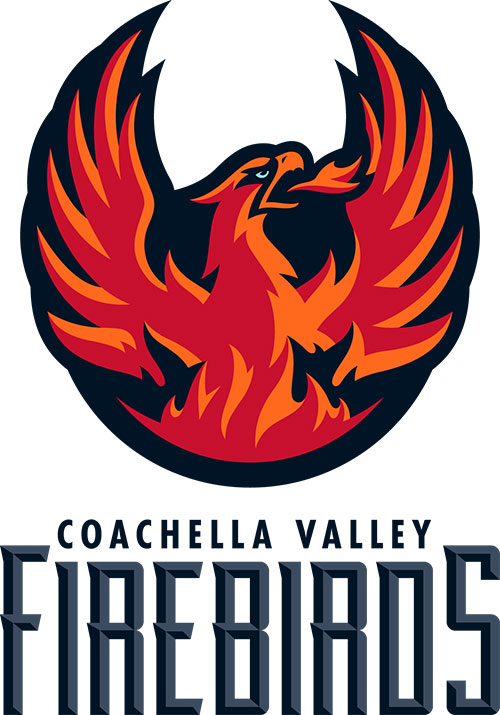 All of the Firebird's games will be played as away games or in Seattle at the Kraken's Climate Pledge Arena until the Firebird's new Acrisure Arena in Coachella Valley is completed in December. Acrisure, a Michigan-based fintech insurance company, has purchased the naming rights for the facility in a 10-year deal. 
The Firebirds recently introduced its team mascot, Fuego, as the newest member of the Coachella Valley community. According to the Firebirds' website, "Fuego is a mystical union of the spirits of all those who came before him, embodying the power and strength of the Coachella Valley." The team also announced three new community programs to support of the residents of Coachella Valley.
"Fuego will work to establish long-term programs on behalf of the Firebirds organization, Acrisure Arena and in conjunction with many of our community partners. He will actively promote health, recreation, and education programs for the Coachella Valley," Steve Fraser, president of Acrisure Arena and the Coachella Valley Firebirds, said in a statement.
The new Acrisure Arena will bring more than just the excitement of AHL Hockey to the Coachella Valley. According to the Firebirds' website, the Acrisure Arena will provide the greater Palm Springs area with a premiere 11,000+ seat venue to host a wide variety of artists and acts. Designed specifically for hockey and concerts, the new arena will provide top-tier hospitality, artist amenities, and all of the benefits of a modern music and sports venue.
Officials from Oak View Group, developers of Acrisure Arena, recently announced the acts that will soon appear at the venue, which is located near Thousand Palms, Calif.  Maroon 5, Ramon Ayala, Journey, Sesame Street Live, the Harlem Globetrotters and Jimmy Buffet are among the acts to appear at the Arena. Additional acts scheduled to take on the soon-to-be completed arena include Reba McEntire, The Doobie Brothers, Grupo Firme, the Eagles, and the Coral Reefers.
"Acrisure Arena's line-up of artists illustrates the caliber of performers Coachella Valley can now expect to see on a regular basis," said Oak View Group co-founder, Irving Azoff, in a statement.