By Jerry Braun, January 2022
Modernism Week 2022, here we come!
Tickets are now on sale for Palm Spring's Modernism Week 2022, the annual celebration of everything midcentury modern – from architecture, design, art, fashion, and culture. The dates of this year's events are February 17th through 27th, 2022.
According to Modernism Week's website, "the annual 11-day festival will feature more than 350 events including the Palm Springs Modernism Show & Sale, tours of iconic homes in more than thirty neighborhoods, and the popular Signature Home Tour on both weekends."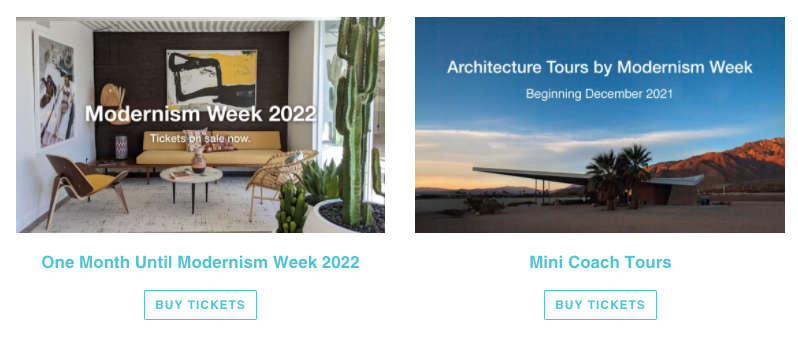 Here is a list of some other highlights for this year's Modernism celebration:
• Ever popular Architectural Tours, including walking, biking, and a double-decker bus
• Festive nightly cocktail parties and receptions with live music
• Educational programs and informative talks, including the keynote speech by world-renowned architect Jeanne Gang, FAIA
• Tours of the historic Annenberg Estate at Sunnylands
• A classic Car Show
• Garden Tours
• A Golf Par-Tee and Tournament at Seven Lakes Golf & Country Club
• A "Best of Modernism" online auction.
All events are open to the public, and many events are free or low cost. For more information, go to the Modernism Week website or email info@Modernismweek.com.
Covid Safety Protocols: Modernism Week is committed to providing guests and volunteers a safe experience at all of our events and will comply with and monitor all the current measures, regulations and mandates set forth by the State of California, County of Riverside and the City of Palm Springs. To keep all guests and volunteers as safe as possible, no exceptions to safety policies will be allowed. If safety measures change, all ticket holders will be notified via email.
Images courtesy of ModernismWeek.com