Modernism Week – October 2022 Programming Announced and Tickets are on Sale!
The four-day long "mini-Modernism Week" schedule of events for this October was just announced, and tickets go on sale on Monday, August 1st, at 12 p.m. PDT.
This extravaganza of fun runs from Thursday, October 13 through Sunday, October 16, and features more than fifty events at venues throughout the Palm Springs area. It offers tours of homes, neighborhoods, and resorts, cocktail parties, venues to purchase merchandise, some free presentations, and lots of other fun events.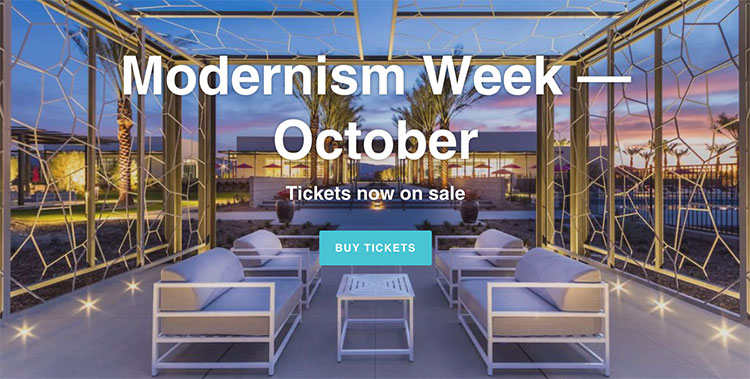 A popular part of Modernism Week in October is the 8th annual Palm Springs Modernism Fall Show at the Palm Springs Convention Center. Running from October 14th through 16th, it offers a combination of vintage 20th century designs and limited edition 21st century designs, and all items are for sale. There is also a festive Opening Night Party and Early Buying Preview reception benefiting Modernism Week on Friday evening, October 14th, from 6 p.m. to 8 p.m.
Here's a sneak peek at some select highlights that are in store during this four-day event:
Tours of midcentury homes in several Palm Springs neighborhoods.
"House of Tomorrow" Elvis Honeymoon house tours.
Historic Sunnylands House tours.
Palm Springs Uptown Design District tours.
Frank Sinatra's "Twin Palms" Estate tours.
Frey House II tours, hosted by the Palm Springs Art Museum.
Temple Isaiah architectural tours.
Midcentury Mixology Cocktail Clinic at Mr. Lyons.

Free midcentury history presentations by

Palm Springs Preservation Foundation board member Gary Johns, 

and Brad Dunning,

curator of the upcoming 2024 Frey exhibition

.

Bella da Ball's Celebrity Homes Bus Tour.

Book Signing and talk by James Harlan,

author of "The Alexanders," his book about the famous Palm Springs developers

.
For the full schedule, check out the flipbook here>>