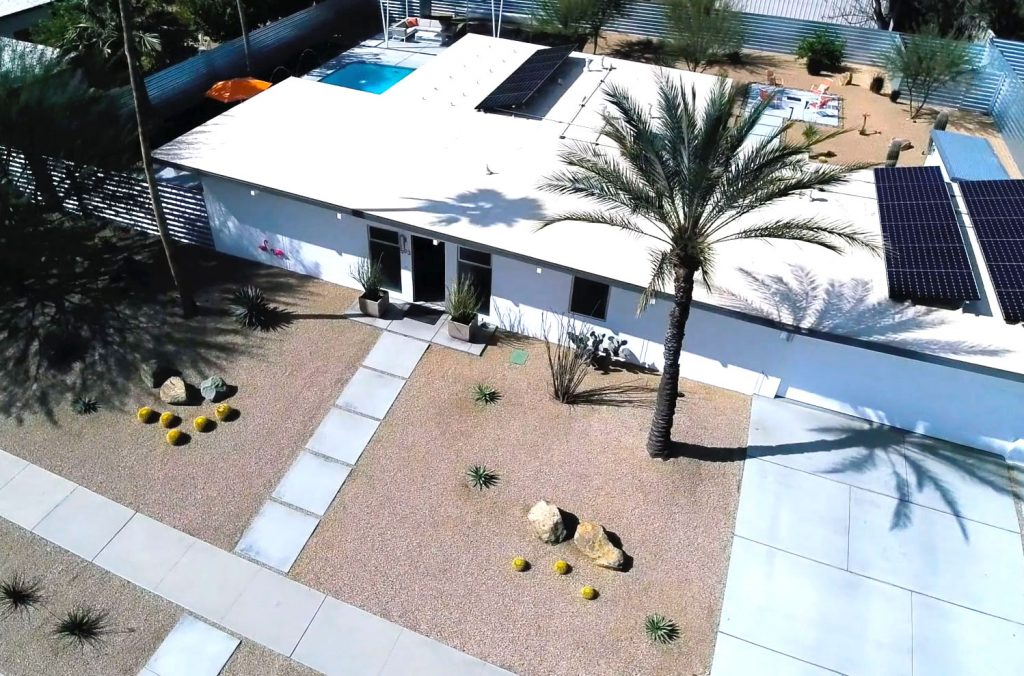 The Sunmor Estates neighborhood in central Palm Springs is a treasure trove of remarkably well maintained mid-century homes built by the Alexander Construction Company, Robert C. Higgins, and Jack Meiselman in the late 50s and early 60s. Though modest in comparison to many homes built today, these properties are sought after for their clean lines and hip provenance. When considering properties from this era, however, buyers are often forced into a dilemma between style and the economics of low efficiency.
Let's face it: Single paned windows, non-insulated walls, and deep pools constructed to 1950s standards aren't the most cost-effective features for a modern-day dwelling.
A property that hit the market this week obliterates this dilemma. The currently for sale (see listing) 593 N Juanita Drive (dubbed "Juanita Verde") is a 1960 Meiselman "Butterfly roof" home that was completely renovated by its contractor-owners in partnership with architect Eric Corey Freed in 2012. The owners, Chris Lucas and Paul McCreesh, are principals of the Palm Springs firm GreenGuys Construction. Their mission was to take a home with "great bones" and, utilizing green, energy efficient, and water conserving materials, create no less than a modern-day eco-masterpiece.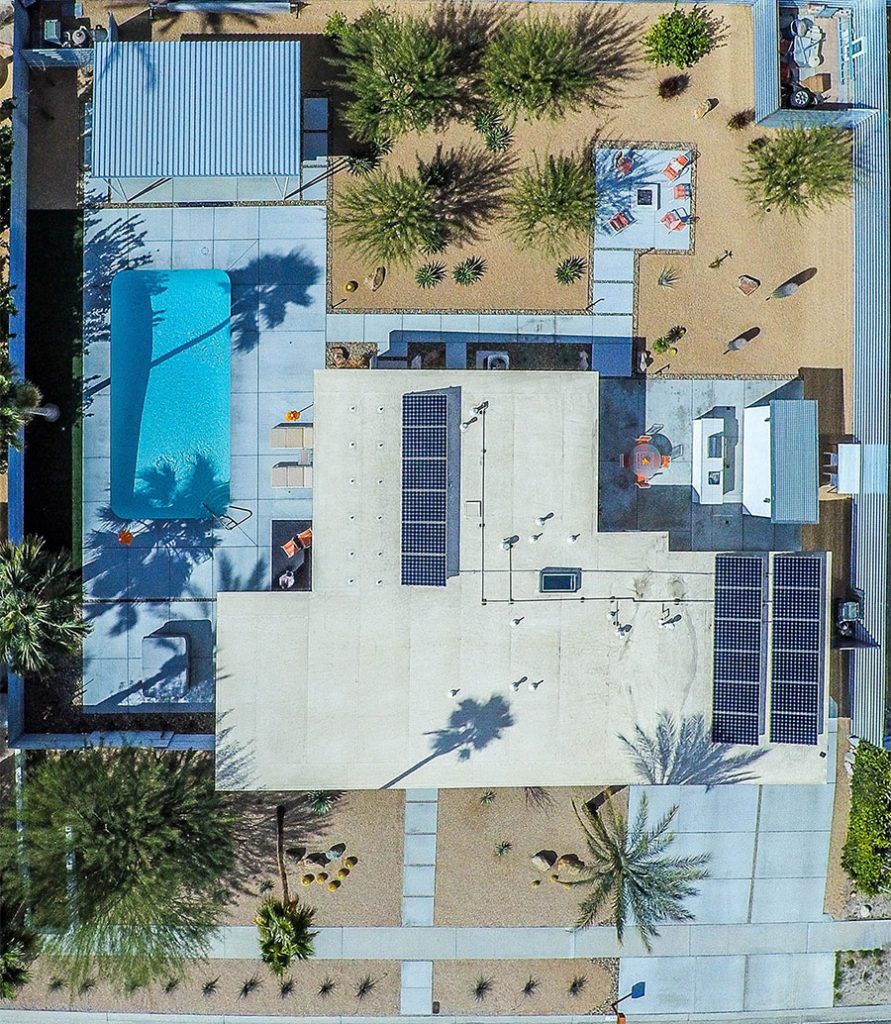 Energy usage was one area of relentless focus. After swapping out older appliances for stylish new ones bearing Energy Star certification, updating to high-efficiency LED lighting, soy-based insulation, dual-pane glass, and installing a new dual-zoned A/C and (expandable) 5KW solar panel system, the house operates for an incredible $500 total approximate annual electrical cost. Every design choice was evaluated for power impact: There's even a solar-powered sun-shade over the kitchen skylight!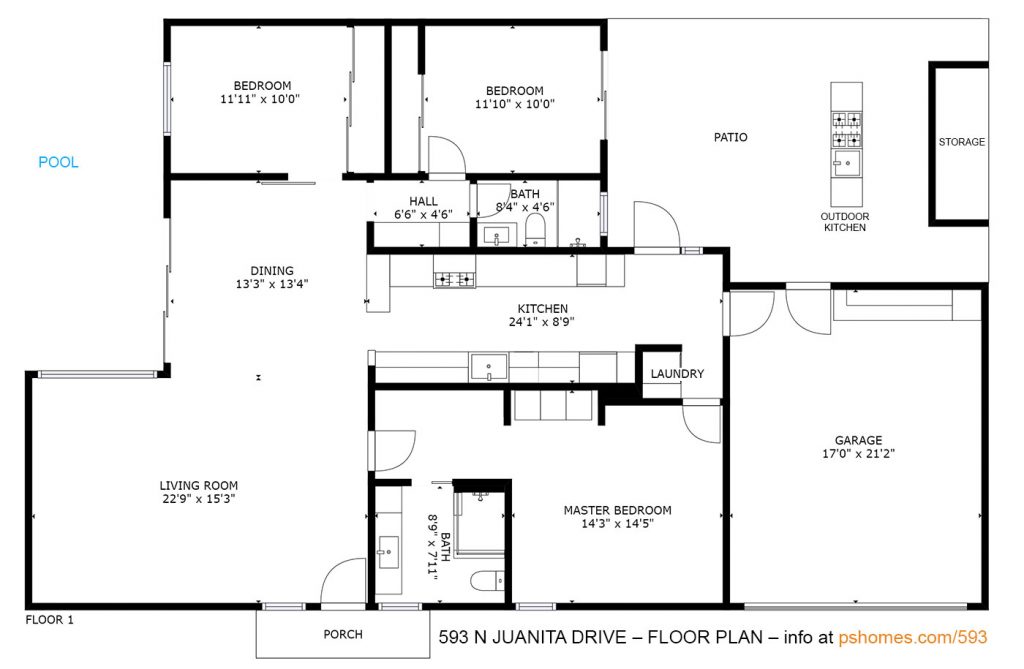 Being personally sensitive to harsh chemicals, the GreenGuys set stringent requirements for all design updates. Zero VOC paints, low VOC cabinetry, low toxicity plantings, and a comprehensive re-run of water lines ensured a minimally toxic environment in the home now and in the future.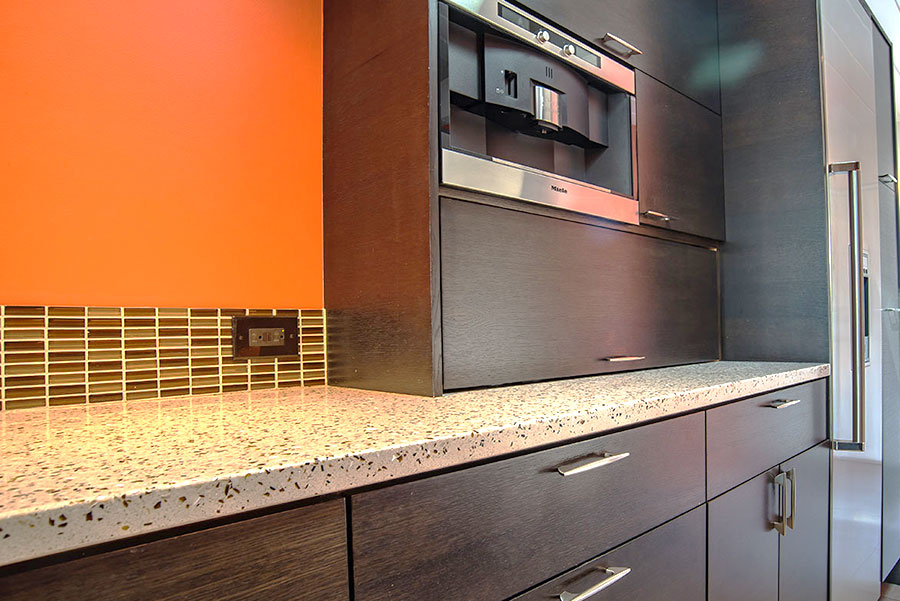 71% of the world is covered by water, and this house knows it! Those new waterlines feed a high-efficiency tank-less water heater (no water flowing down the drain waiting for minutes to get to hot). The pool was completely remodeled and brought up to code with double drains and new plaster and waterline tile. Add to that low-flow dual-flush toilets, modern-design fixtures, and a new eco-friendly clothes washer that's quiet and power efficient as well. Nothing was left unimproved.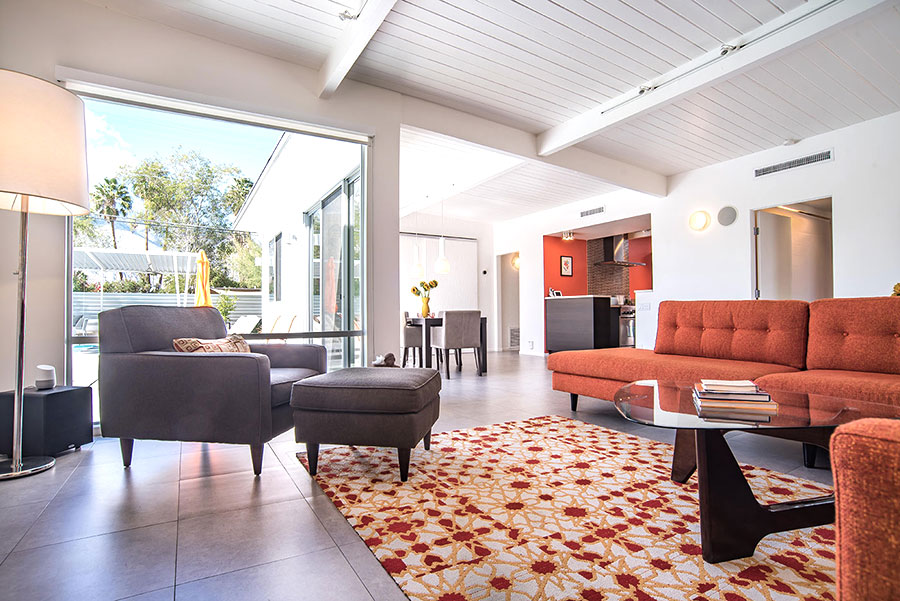 Juanita Verde sets a standard that other thoughtful renovations should aspire to: the creation of a home that honors its architectural heritage and, at the same time, cares for its inhabitants and their surrounding world.
A true eco-topia!