By Jerry Braun, February 2022
You can visit some iconic mid-century modern homes in Palm Springs
Palm Springs is universally recognized for having a wealth of classic Mid-century Modern homes designed by world-famous architects, many for the rich and famous. Through the years, Hollywood stars have leased, bought or event commissioned homes for themselves. Designed and built around the middle of the 20th Century, these homes are prevalent in many neighborhoods in and around Palm Springs.
Here are a few beautiful, iconic Mid-century Modern homes which have been preserved and are still being enjoyed today. Those highlighted here are located in some of the most popular neighborhoods in the western part of Central Palm Springs – Little Tuscany, Old Las Palmas and Vista Las Palmas.
Edris House designed by E. Stewart Williams (1030 W. Cielo Drive, Palm Springs, CA)
Source and for more information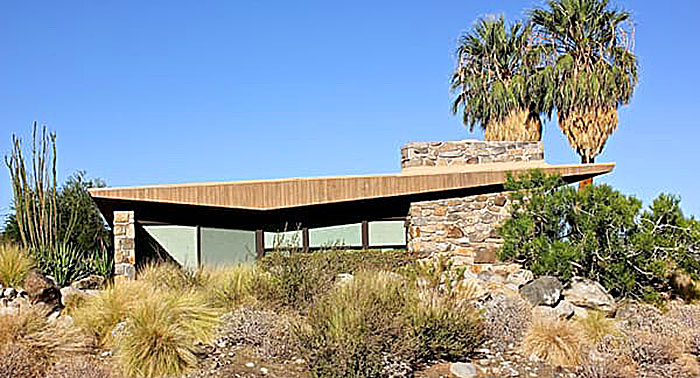 The Edris house was designed by E. Stewart Williams for Marjorie and William Edris, who lived next to the architect and his wife Mari in an apartment duplex he designed. Williams was one of the desert's pioneer modernist architects and was best known for designing and building a home for Frank Sinatra. He also designed a house for Bob Hope, but it was never built.
Alexander House designed by Walter S. White (1011 W. Cielo Drive, Palm Springs, CA)
This home, build for Dr. Franz Alexander, was created in 1956 by Walter S. White, an architect who worked with Frank Lloyd Wright, Albert Frey and Rudolf Schindler. This three-bedroom, four-bath, 3,200 sq. ft. property provides breathtaking views of the Coachella Valley while offering privacy and seclusion. The property is listed on the National Historic Register.
Source and more information
Kaufman House designed by Richard Neutra in 1946 (470 W. Vista Chino, Palm Springs, CA)
One of Richard Neutra's several iconic projects is the Kaufmann House in Palm Springs. Completed in 1946, the Kaufmann House was a vacation home for Pittsburgh department store businessman Edgar J. Kaufmann Sr. and his family to escape the harsh northeast winters. Sitting on over two acres, the home features clean-cut geometry yet natural materials keep it connected to the earth, embracing the desert scape of Palm Springs.
Sources and more information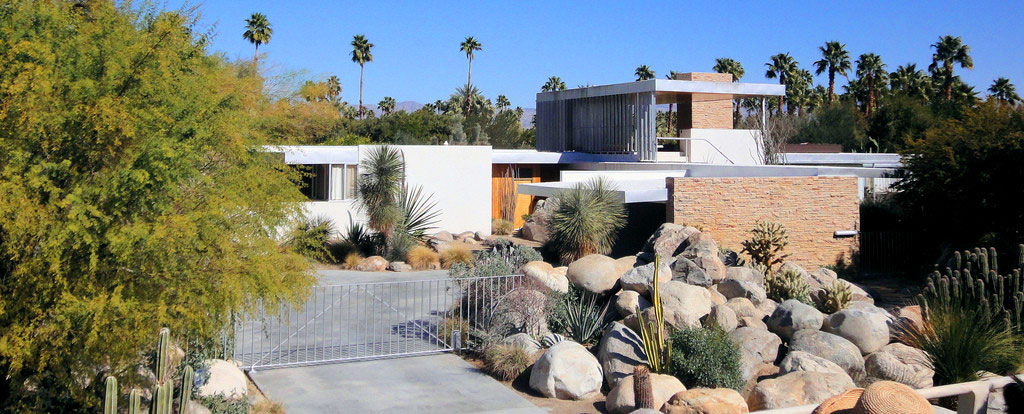 House of Tomorrow / Elvis Honeymoon Hideaway House by William Krisel (1350 Ladera Circle, Palm Springs, CA)
Robert "Bob" Alexander and his wife Helene moved to Palm Springs in 1957. He built the "House of Tomorrow," designed by William Krisel, for his family in 1960. Alexander built hundreds of other Krisel designed homes in the Palm Springs area, from Twin Palms, their first project together as Palm Springs' first modernist tract, to Vista Las Palmas, their last. Elvis Presley, the King of Rock and Roll and his young wife, Priscilla, leased the house for one night on their honeymoon in May of 1967.
For more information
Dinah Shore Home designed by Donald Wexler (432 W. Hermosa Place, Palm Springs, CA)
Currently owned by actor Leonardo DiCaprio, this 1964 home was designed by Donald Wexler for Dinah Shore. Built on a secluded 1.3 acre desert oasis compound in the famous Old Las Palmas neighborhood, the estate is exceptionally private, and offers 6 bedrooms and 7½ baths, pool, and a tennis court. You can even rent it!
For more information
––––––––––––––
Mid-century Modern (MCM) is an American design movement in architecture, interior, product, and graphic design which was born during the post-World War II period, roughly 1945 to 1969. Still popular today, the MCM movement is celebrated in Palm Springs during Modernism Week every February and previewed each Fall with celebrations in October. Here is more information about vibrant celebrations of everything Mid-century Modern, including tours of some exquisite examples of MCM architecture.